Stair Lifts
There are all kinds of stair lifts available to fit different applications, from a straight half-flight to a seven-story spiral. While it's important to select the right unit for your situation, it's just as important to carefully select the company from which you buy that unit. Installing a stair lift might look simple to the untrained eye, but technicians who have been doing it for decades will tell you that it isn't. A typical stair lift and track system have dozens of connections and adjustments that must be done exactly right to ensure safety in the long-term. With Area Access, you can rest assured that our installers care about safety and know their business.
---
Bruno Stair lifts
Area Access installs and services both straight and curved-rail stair lift solutions created by Bruno, a top manufacturer in this field for many years. See the videos below for information on Bruno's popular straight and curved-rail Elite models.
---
Stannah Stair Lifts
Stannah brings a distinctly European look and feel to stair lift technology, combining quality engineering with elegant style. Their line of stair lifts includes basic to luxury models to match your budget, and different upholstery and trim options to match the look of your home.
In business for five generations and almost 150 years, Stannah has been making stair lifts since 1975. They have specialized products for straightand curved stairs, as well as an all-weather stair lift for outdoor applications. In addition, Stannah has created the one-of-a-kind "Sadler" design, a stair lift built for people with greatly reduced mobility.
---
Staying Home Stair Lifts
Designed by lifetime accessibility engineers with over 100 years of combined experience, Staying Home stair lifts epitomize the best in modern stair lift technology. There's little not to like about this solid, fully-featured, and affordable brand.
LEGACY ELEGANCE STAIR LIFT
Rider capacity up to 350lbs.
Unit folds to within 11″ of the wall, with narrow track to save space.
Smart obstruction sensors for safety.
Battery-operated mode completes up to 20 trips without power.
High seat back and low-to-the-floor foot rest for superior comfort.
Deluxe upholstered seat with retractable safety belt.
---
Acorn Stair Lift Sales And Service
As one of the least expensive and most prevalent stair lift lines, Acorn is already familiar to many customers. In addition to offering these economically-priced units for sale, we provide service for existing Acorn customers.
Acorn Product Features
Padded seat and backrest for comfort while riding.
Light touch operation for those with limited dexterity.
Safety belt standard on all models.
Folding design saves room for normal usage of stairs.
On/off switch can be locked for child safety.
Five obstruction sensors halt operation for safety if stair lift path is blocked.
Two remotes are included to accommodate multiple users.
---
Handicare Stair Lifts
Handicare manufactures a selection of high-quality stair lift solutions for both straight, curved, and complex installations. Area Access is pleased to be able to offer this fine import line for our customers.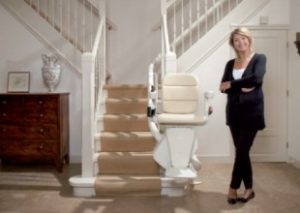 FREELIFT CURVED RAIL BY HANDICARE
Joystick control on left or right arm.
Safety belt fitted as standard.
Key switch.
Remote control.
Manual or powered swivel seat.
Space saving design.
Folding arm and foot rests.
Optional foot rest linkage.